Hi everyone! Tammy here from
123 Teach With Me
and
Dots of Fun! Clip Art
. I'm so excited to be a part of this awesome blog hop hosted by the ladies from
Primary Possibilities
Yes, I have 2 blogs which keeps me very busy and I love it! Let me back up a little and tell you more about myself.
I started a blog back in February....my 1 year Blogiversary is right around the corner!! I can't believe it.
I started following some blogs and loved sharing ideas so it didn't take me long to dive right in and start a blog of my own. Then 6 months later, came clip art. I always loved to draw but never really focused on it. After creating resources and opening
my TpT Store
, I tried and started with not having a clue. After many late nights and getting some awesome advice from other bloggers, I have learned a lot and continue to learn and keep getting better. My clip art blog is new so if you love clip art I hope you'll head on over to
Dots of Fun!
to check it out:)
I have 10 years of teaching elementary school and loved every minute. Yes...there were challenges but that's what made it interesting...every day! Now I'm a stay at home mom, creating teaching resources, clip art, and teaching my kiddos. I have a boy (almost 5 years) and a little girl (2 years old). I'm not a homeschool mom but I might as well be with the amount of work I make them do..haha!
So I wanted to share this cute cutting center idea for your little ones.
I found this activity book in Target (gotta LOVE that place) and thought it would be great for my little boy to practice his cutting skills. That was one of his goals over the summer.....to become a better "cutter" and he is definitely getting better!!! Through much frustration on my end, and a lot of "I don't want to!" on his end, we have battled through it and he is cutting better than some of my first graders did in those first few weeks of school.
This activity book has made it so much more fun! There are pictures inlcuded that peal in certain areas, so when your child cuts the strips of paper in the back, they lay pieces on the sticky part and it becomes the cutest little picture. Here's what we did!
My son wanted to do the Tiger.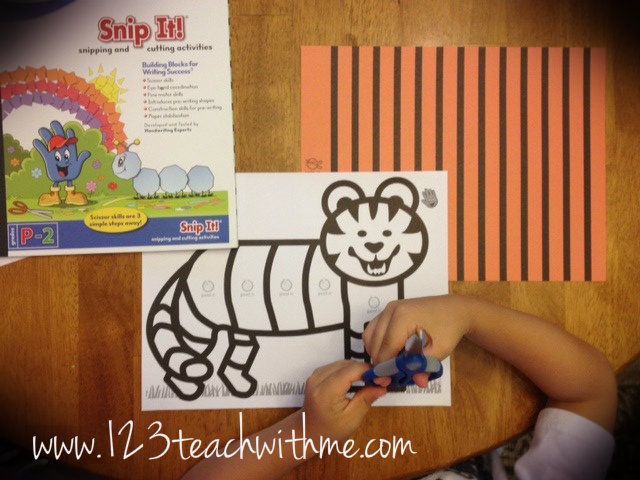 We picked out the orange paper in the back that already has thick lines for your child to cut on!! AWESOME!!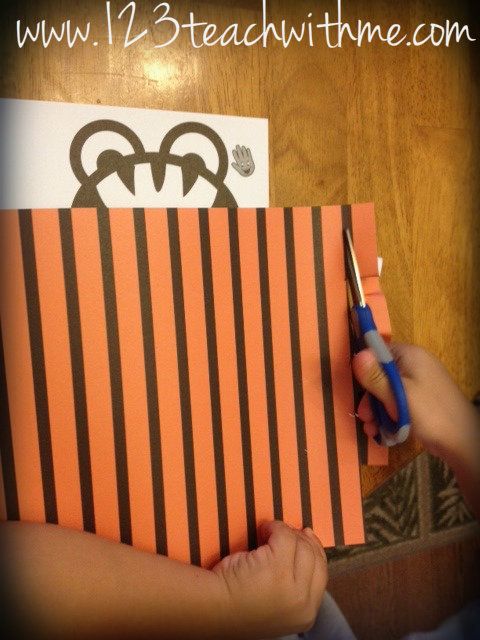 You don't need all of the pieces. He cut 4 out and then cut them into little pieces.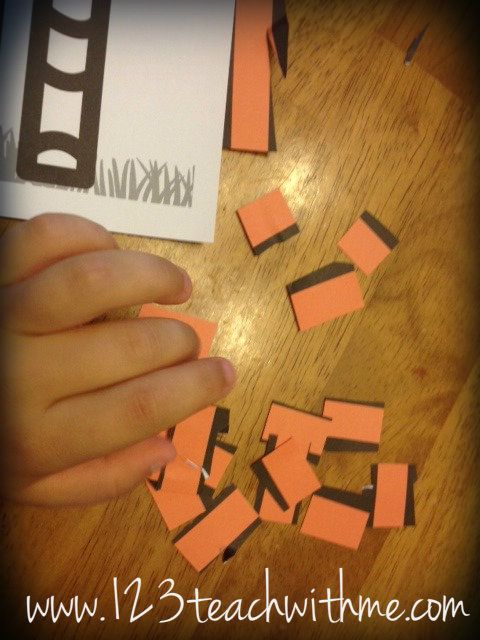 Then he pealed off the part of the picture that say "peal it"
He then placed his orange pieces on the sticky part and created his picture.
This is such a cute project that makes great "Frig Art"!!! Here is the pirate he made!!
This would make a great cutting center activity for preschoolers and kindergartners. The one thing I found more frustrating than anything as a 1st grade teacher was how most of my students at the beginning of the year were just awful cutters. I know....I'm mean....but it really drove me crazy. This activity doesn't need glue which is GREAT
for everyone...no mess to clean up!!! It just focuses on the cutting skills and it definitely gets those fine motor skills a good workout!
Here is the link to the activity book on amazon if you want to check it out!
Thank you Tammy for guest blogging on
More Than Math by Mo
today! Be sure to head over to where I am guest blogging today. Click on the picture below to hop over and check it out. As Tammy stated previously, "There's a lot of bog hoppin' to do!!"
New Friends, New Ideas, New Possibilities